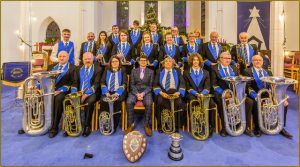 Oughtibridge Brass Band, based in the village of Oughtibridge (North Sheffield), is a traditional British Brass Band, currently competing in the 4th section of the National Brass Band Championships of Great Britain. We were privileged to be awarded 1st place in the Regional Championships 4th Section on March 5th 2022 and March 4th 2023.  We are due to be promoted to the 3rd Section in 2024
We also have a Community Band, perfect for beginners to get a feel for brass bands. You will be able to learn and progress with your peers and will get advice from more experienced players. The band rehearse on Friday evenings from 6:30pm-7:45pm. For more details, please see the Community Band page.
The bands perform several concerts a year both locally and further afield. With music ranging from traditional Brass Band music, to Film Music, Pop Music, Classical music and more, Oughtibridge Band cater for all tastes of music both on the bandstand or concert hall.
To see where you can hear us next, please see the Engagements page.
To find out more about hiring Oughtibridge Band for your event, please see our Contact Us page.
If you fancy joining us for a blow one evening, the band rehearse on Monday & Thursday evenings (7:30pm-9:30pm) in our own custom build band room. To find out more about the current vacancies we have, please visit our Vacancies page.